Rustic Tomato soup.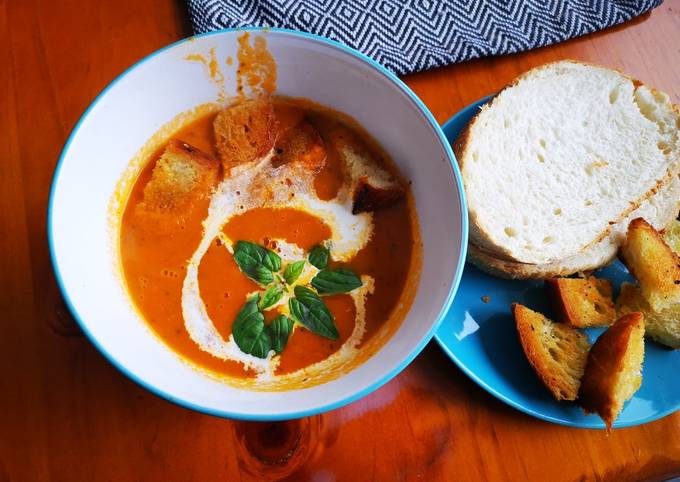 You can cook Rustic Tomato soup using 13 ingredients and 15 steps. Here is how you cook that.
Ingredients of Rustic Tomato soup
It's of Base.
You need 1 of onion.
It's 1 of carrot.
It's 1.5 L of vegetable stock.
It's of Tomatoes.
You need 2 kg of tomatoes (plum tomatoes preferred).
It's 1 of whole bulb garlic.
You need of Tomato paste.
Prepare of Herbs.
You need 4-5 of fresh Sage leaves.
It's 4-5 of fresh Bayleaves.
You need 1 of whole bunch Fresh basil.
You need of Olive oil.
Rustic Tomato soup step by step
Cut tomatoes in halves and lay them on a tray, season them well with salt and pepper. Don't discard the tomato vine stems add them to the tray.
Cut the garlic bulb in half and spread it on the tray, add 2 bayleaves. No need to remove garlic peel at this point..
Set the oven to 200 c and cook for 30 to 40 minutes till you see the skin shrivel and caramelise lightly.
Rest the tomatoes and remove the garlic from its peel, adding them back to the tray. Discard the garlic skin, tomato vine and bayleaves..
Dice one onion and carrots roughly, no need to mince or finely chop as these will get blended later.
In a heavy bottom pot (Dutch oven) add olive oil and add your onions, carrots and 2 bayleaves. Sweat them not do not brown or burn..
Add a tablespoon of tomato paste and cook for 5 minutes or till you see it browning on the bottom of the vessel. Do not let it burn..
Once you cook out the raw acidity of the tomato paste add the roasted tomatoes, sage and 1.5L of vegetable stock..
Cover and cook for 30 minutes on medium to low heat, check intermittently to ensure nothing is catching on the bottom of the pot..
Once all the tomatoes are cooked and encorporated remove from stove and add leaves of 3/4 bunch of basil..
Remove the bay leaves. Take an emulsion blender and blend till mixture is smooth and thick..
Check for seasoning add and pepper as desired. Tip: if your mixture feel acidic add a teaspoon of baking powder and 1 heaping tablespoon of brown sugar..
Now cook return to stove and cook uncovered for another 20 minutes (check if mixture is very thick add more stock water)..
Optional step : once cooked add 100 grams of thick cream to increase richness.
Garnish with basil leaves and drizzle a teaspoon of cream on top, serve with croutons and rustic bread on side..