My Rustic 2 Cheese & Mushroom Pizza. 🤗.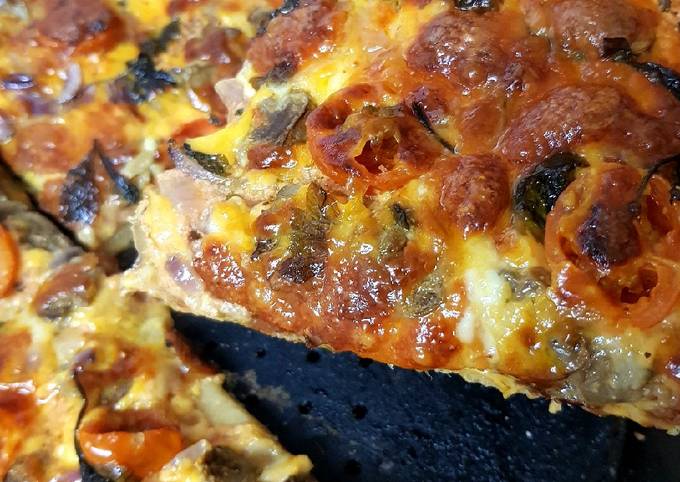 You can cook My Rustic 2 Cheese & Mushroom Pizza. 🤗 using 22 ingredients and 11 steps. Here is how you cook it.
Ingredients of My Rustic 2 Cheese & Mushroom Pizza. 🤗
Prepare 3 Cups of Flour.
It's 1 tbls of Yeast.
It's 1 tbls of Sugar.
Prepare 2 tsp of Salt.
It's 1 Tbls of Olive oil.
Prepare 1 Cup of Water.
It's of Then your Toppings….
You need of Fry these items for 1 minute then remove them and set aside.
You need 12 of little Button mushrooms.
Prepare 1 tsp of olive oil.
You need 2 of garlic cloves crushed.
You need of More Toppings………
You need 125 g of block soft mozzarella soft cheese slice thinly.
Prepare 8 of Cherry Tomatoes sliced in half.
Prepare 8 oz of Grated Chedder Cheese.
It's 1/2 of Red Onion chopped.
You need of Mix together………
Prepare 2 Tbls of Ricotta Cheese.
Prepare 4 tbls of Tomato purée.
Prepare 1 tsp of Oregano.
You need 1 tbls of fresh Basil or dried.
It's of Some fresh parsley to Garnish.
My Rustic 2 Cheese & Mushroom Pizza. 🤗 step by step
Oil in a pan then add the garlic and little sliced mushrooms. Cook for 1 minutes then take the mushrooms off and set aside..
Add flour to a large mixing bowl.Add yeast, sugar, salt, olive oil and water and stir until combined. If your using dry yeast it will have to proof first in a little warm water and 1/4 Tsp sugar for 5 minutes or until frothy mix has formed on top..
Place onto a lightly floured surface and knead for 5 to 10 minutes or until a smooth ball forms. If you're dough sticks knead in a little more flour.,1 tablespoons at a time..
Place dough ball into a lightly oiled bowl, and then cover with plastic wrap or clean cloth. Set in a warm place for about 30 minutes or until dough has doubled..
Put dough on a floured surface and knead lightly to remove any air. Stretch each dough ball flat to make a pizza crust then Roll it not too thin just one direction turn the pizza base around and roll outwards..
Grease the pizza tray then add the pizza bread on it. Start adding your toppings..
The tomato purèe and ricotta cheese with basil and oregano mixed spread all over the pizza up to the edge. Next add a quater of the chedder cheese all over..
.
Next add the garlic mushrooms and then the red onion leave a little onion for the top..
Next the rest of the chedder then the tomatoes then add the rest of the onion. Then add the slices of mozzarella all over. And the parsley.
Finish the top with some parsly leaves broken on top. Then add to a preheated oven 200°C for 20 minutes or until browned a little..