The Ultimate Classic Carrot Cake.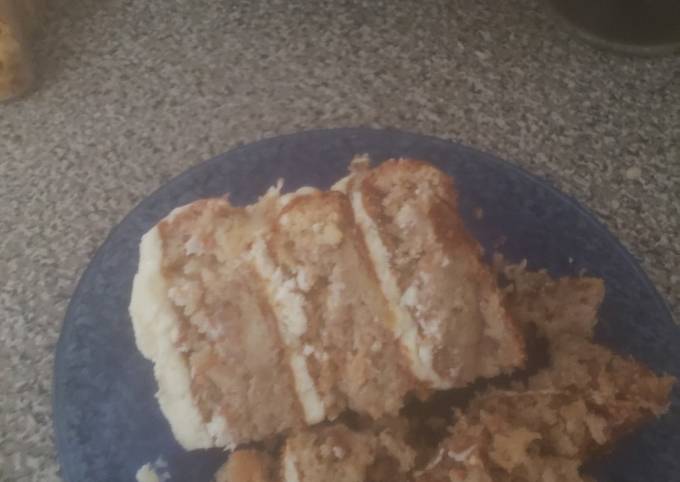 You can have The Ultimate Classic Carrot Cake using 12 ingredients and 12 steps. Here is how you achieve it.
Ingredients of The Ultimate Classic Carrot Cake
You need 3 cups of all-purpose flour.
Prepare 2 cups of sugar.
It's 2 teaspoons of ground cinnamon.
You need 2 teaspoons of baking powder.
Prepare 1 teaspoon of baking soda.
Prepare 4 of large eggs.
You need 1 1/4 cups of vegetable oil (or canola oil, grapeseed oil, etc.).
Prepare 3/4 cups of unsweetened, chunky applesauce.
You need 1 teaspoon of vanilla extract.
Prepare 2 cups of carrots, shredded (about 5 small carrots).
You need 1 (15 ounces) of can pineapple, drained and chopped.
You need 1 cup of walnuts, chopped.
The Ultimate Classic Carrot Cake step by step
Preheat oven to 350 degrees, and grease three 8-inch round cake pans with nonstick spray..
In large bowl, whisk together flour, sugar, cinnamon, baking powder, baking soda and salt..
In a small bowl, whisk together eggs, oil, applesauce and vanilla..
Stir egg mixture into flour mixture until just combined. Fold in carrots, pineapple and walnuts..
Evenly divide batter between prepared cake pans and bake in oven for about 45 minutes until a tester inserted into the center of the cake comes out clean. Set aside to cool..
When the cakes feel cool to the touch, place the butter and cream cheese in a stand mixer fitted with the paddle attachment and beat on medium-low speed until smooth and creamy, about 3 minutes..
With the mixer running on low, gradually add in powdered sugar. Beat on medium until light and fluffy, scraping down the bowl as necessary..
Remove the cooled cakes from their tins and place one of the layers, flat side down, on a flat plate or cake stand..
Spread with 3/4 cup frosting. Top with another cake layer. Spread with 3/4 cup frosting. Top with final layer..
Using icing spatula, spread remaining frosting over the top and sides of the cake, making decorative swirls in the frosting if desired..
Press chopped walnuts along the bottom edge of the sides..
Cake can be stored, covered in fridge, for up to 3 days. Serve at room temperature..