Red macaroons with golden heart#themechallenge.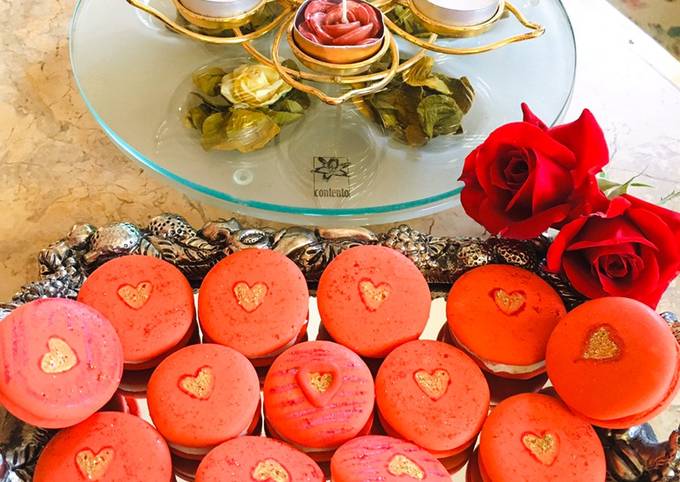 You can cook Red macaroons with golden heart#themechallenge using 11 ingredients and 8 steps. Here is how you cook that.
Ingredients of Red macaroons with golden heart#themechallenge
It's 50 grams of almond meal.
You need 50 grams of icing sugar.
It's 35 grams of or 2& 1/4 Tbsp aquafaba.
Prepare 1 pinch of cream of tartar.
You need 3 Tbsp of caster sugar.
It's of Red gel color.
Prepare 1/4 tsp of vanilla essence.
Prepare of For filling frosting.
It's 1/4 cup of white margarine.
Prepare 1/2 cup of icing sugar.
Prepare of Few drops of vanilla Essenes.
Red macaroons with golden heart#themechallenge step by step
Sieve together >Almond meal and icing sugar, mix properly with a whisk, keep aside.
Beat aquafaba+ pinch of tartar for a minute on high speed,,, now add caster sugar 1 Tbsp at a time and beat the mixture until stiff peak >>> now add color and essence beat to mix..
Now add almond + sugar mixture with spatula using cut and fold technique. Pour the mixture into piping bag with round nozzle tip and make rounds on macaroons tray,,, if you don't have the tray just use butter paper.
Leave it for 2 hours under the fan or A.C. to dry completely, when you touch it doesn't stick to your finger, now it's ready for bake.
Preheat the oven to 120'C bake macaroons for 30 minutes, keep eye on it, after 30 minutes put it off the oven and leave the macaroons in the oven for 10 minutes.
Remove the tray from the oven and keep it aside to cool completely, macaroons shells are ready.
Mix ingredients for frosting,,, put it into icing bag and take a shell of macaroon and fill little bit and close with other shell, prepare all the macaroons and keep it in the fridge over night.
Next day draw golden heart with edible pen,,, sprinkle some glitter and it's ready to serve.