Rustic Chicken & Mushroom crumbly pie.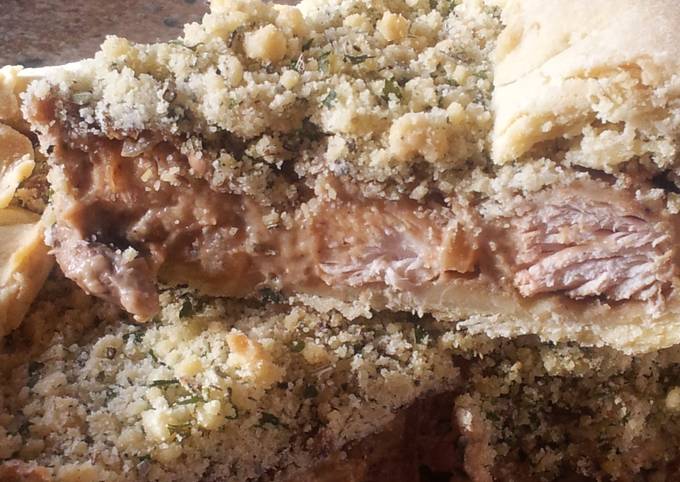 You can have Rustic Chicken & Mushroom crumbly pie using 17 ingredients and 21 steps. Here is how you achieve that.
Ingredients of Rustic Chicken & Mushroom crumbly pie
Prepare of Base & Topping:.
It's 3 cup of plain flour.
You need 1 1/2 cup of butter.
You need to taste of salt.
You need 1 tbsp of cold water.
You need to taste of black pepper.
Prepare 2 tsp of sage.
You need 1 tsp of chopped parsley.
It's of Filling:.
You need 2 tbsp of sunflower (or vegetable) oil.
You need 1 large of onion halved and thinly sliced.
Prepare 3 large of chicken breasts cut into 1" chunks.
You need 1 cup of chunky cut mushrooms.
Prepare 2 oz of butter.
Prepare 2 tbsp of plain flour.
It's 300 ml of milk.
You need 1 tsp of dried sage.
Rustic Chicken & Mushroom crumbly pie instructions
For the base and topping – you can prepare this as early as you like.
Put flour into large bowl and chop butter into the flour using a wide bladed knife.
Add salt.
Rub the fat into the flour with fingertips until mixture resembles crumbs.
Remove 1½ cups and place into another bowl.
To the first bowl add cold water and using the knife stir until the mixture starts to stiffen then bring together with your fingertips and gently knead into a ball of dough.
Wrap in cling wrap and place in the refrigerator to rest.
To the second bowl of crumb mixture add ¼ tsp salt ½ tsp sage and a good shake of black pepper and stir through. Put to one side..
For the filling use a large frying or saute pan with a close fitting lid..
Heat oil on a low to medium heat and add onions cook until they soften.
Add cubed chicken and slightly raise the heat. When chicken has started to colour all over, put the lid on the pan and cook for a few minutes..
Push chicken and onion mix to outside of pan and add butter to the centre..
When butter has just melted add flour and stir into the melted butter.
Now stir through the rest of the mix and start adding the milk a little at a time stirring thoroughly each time until the mix is a thick gravy..
Add a little more milk if the gravy is too thick for you but this pie is meant to be eaten hot or cold so you don't want it too runny..
Add seasoning and sage and lastly the mushrooms stir in and turn off the heat. Water will seep out of the mushrooms and loosen the gravy whilst cooking..
Now to assemble. Prepare an 8"x 2" tin by greasing well (i use a spring form round tin) Roll the pastry out quite thinly on a floured surface.
Line tin with pastry. As it is a large, deep tin the pastry may break as it is quite rich. Don't worry about this, just patch it all together as you're going to be creating a rustic look.
Spoon filling into pie, sprinkle over crumb mixture then fold the excess pastry over the crumb or trim.
Place into centre of oven and bake for 30 minutes.
Leave pie to cool for at least 30 minutes before attempting to cut as it will collapse and the filling will ooze out. I prefer my pie cold.