Caribbean Spiced Rum Cake.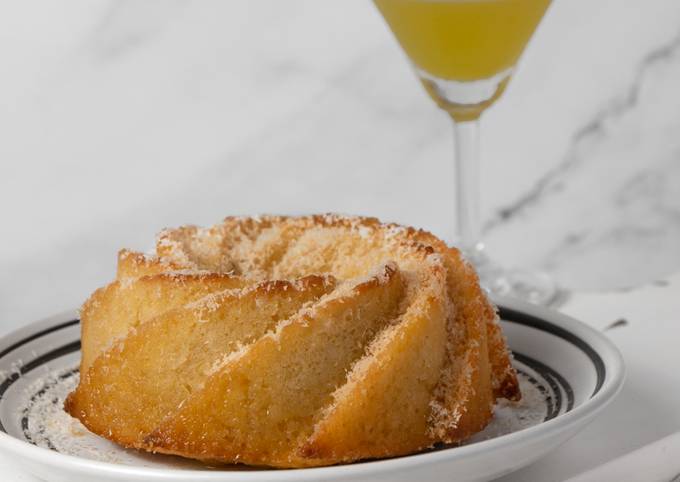 You can cook Caribbean Spiced Rum Cake using 23 ingredients and 10 steps. Here is how you cook that.
Ingredients of Caribbean Spiced Rum Cake
You need of For the Cake.
Prepare 56 g of all-purpose flour.
It's 10 g of corn starch.
Prepare 4 g of baking powder.
You need 1 g of salt.
You need 7 g of unsweetened shredded coconut.
It's 67 g of granulated sugar.
You need 25 g of unsalted butter, softened.
Prepare 40 g of unsweetened coconut milk.
You need 55 g of crushed pineapple, drained and juices reserved for glaze.
You need 1 of large egg.
It's 27 g of dark spiced rum, or dark rum.
You need 4 g of vanilla extract.
Prepare of For the Spiced Rum Syrup.
It's 25 g of unsalted butter.
You need 22 g of granulated sugar.
Prepare pinch of salt.
It's 26 g of pineapple juice.
Prepare 27 g of spiced rum.
Prepare of For the Glaze.
Prepare 40 g of powdered sugar.
It's 10 g of pineapple juice.
Prepare 1 g of spiced rum.
Caribbean Spiced Rum Cake instructions
Crushed Pineapple: cut pineapple into chunks. Put them into your food processor and pulse 2-3 times. Use a strainer to reserve the pineapple juice. Set aside..
Preheat the oven to 325F (160C). Prep a 1 1/3 cup (330ml) bundt pan with shortening (or nonstick cooking spray) and dust with almond meal..
For the Cake: With an electric mixer, cream the softened butter and granulated sugar. In a separate bowl mix all the dry ingredients together, including the shredded coconut. Then beat the dry mixture into butter mixture. It will be crumbly..
Whisk the coconut milk, egg, rum, vanilla extract, and drained crushed pineapple together, and add to the mixer. Beat until combined..
Pour the batter into the pan and bake for 40 minutes or until a toothpick into the center of the cake comes out clean. If not, bake for 5 minutes longer, then test again..
While the cake is cooling, prepare the spiced rum syrup. In a sauce pan combine all ingredients. On medium heat, bring the mixture to a simmer and cook for 8 minutes or until it begins to thicken slightly. Remove from heat..
With a skewer, poke holes throughout the cake and slowly pour the syrup over it, allowing it to absorb until all the syrup has been applied. Cover the pan loosely with plastic wrap and let it sit at room temperature for 2-3 hours..
When ready to serve, gently slide a thin knife between the cake and the edges of the pan to loosen. Cover the cake with a cake plate and carefully flip. Once your cake has released, remove pan..
Mix the glaze ingredients starting with 30 g of powdered sugar, 5 ml pineapple juice, and rum. Whisk and add more powdered sugar or juice to reach your desired consistency. It should be very thick, yet still be able to slowly drip down the sides of the cake..
Toast the coconut in a small dry skillet, over medium heat. Stir until the coconut is golden. Sprinkle on top of the glaze andddd you're done..