Chicken Cordon Bleu Casserole.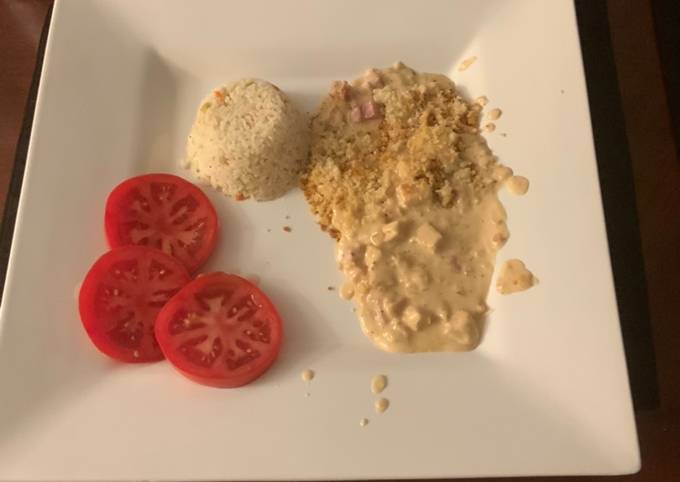 You can cook Chicken Cordon Bleu Casserole using 18 ingredients and 6 steps. Here is how you achieve that.
Ingredients of Chicken Cordon Bleu Casserole
You need 2 of large chicken breasts, about 1 lb total.
Prepare 1/2 lb of ham steak.
It's 1 1/4 cup of grated Swiss cheese.
You need 1 1/4 cup of grated Monterey Jack cheese.
It's of Panko breadcrumbs.
Prepare 2 Tbsp of melted butter.
It's of Sauce.
It's 4 Tbsp of butter.
Prepare 1 of shallot minced.
It's 3 of garlic cloves minced.
Prepare 4 Tbsp of all-purpose flour.
It's 1/4 cup of white wine.
It's 1 cup of whole milk.
It's 1 cup of heavy cream.
Prepare 1 cup of chicken broth.
You need 2 Tbsp of Dijon mustard.
You need 1 tsp of cayenne pepper seasoning.
You need 1 tsp of black pepper.
Chicken Cordon Bleu Casserole instructions
If you have leftover chicken skip this step. Heavily season your chicken breasts. Quickly sear both sides of the breasts in a cast iron skillet and then place skillet in a 350°F oven. Cook until almost done or to 140°F. Remove to plate and let rest 5-10 minutes..
Put ham steak in the skillet and brown both sides on high heat. 1-2 minutes per side. Remove and plate with chicken. Cut chicken and ham into cube size pieces. Return to plate. Combine cheeses in a bowl and mix. Set aside. You will use 1 cup in the sauce and the remaining 1 1/2 cups will be used in the casserole dish..
Mix 2 Tbsp melted butter and the Panko breadcrumbs in a bowl. Mix well and set aside. Add 4 Tbsp butter and shallots to the skillet and cook until soft. Add garlic and cook for 30 seconds. Whisk in flour and cook for 2 minutes. Add white wine and cook off liquid, 1-2 minutes. Next whisk in chicken broth, milk, heavy cream, mustard, cayenne pepper, and black pepper and bring to a simmer. Cook about 5-10 minutes until it thickens some. Remove from heat and stir in 1 cup of the cheese mixture..
Spray Pam on a small baking dish. I used a 8" x 11" dish. Layer bottom of dish with 1/3 of chicken, then 1/2 the ham, then 1/4 cup of cheese mixture. Repeat process for the second layer. Layer the remaining chicken on top. Pour in sauce to cover dish contents. Spread remaining cheese mixture, about a cup, on top of sauce..
Finally, add breadcrumbs and spread to cover the top of the casserole..
Place casserole on a preheated 350°F oven. Cook for 30 minutes, until casserole is bubbling and the breadcrumbs are browned. If you want you can use your broiler at the end to get a nice browned, crispy top. Serve and enjoy. Rice makes a good side for this casserole with all the great sauce..