Old fashioned coconut cream pie.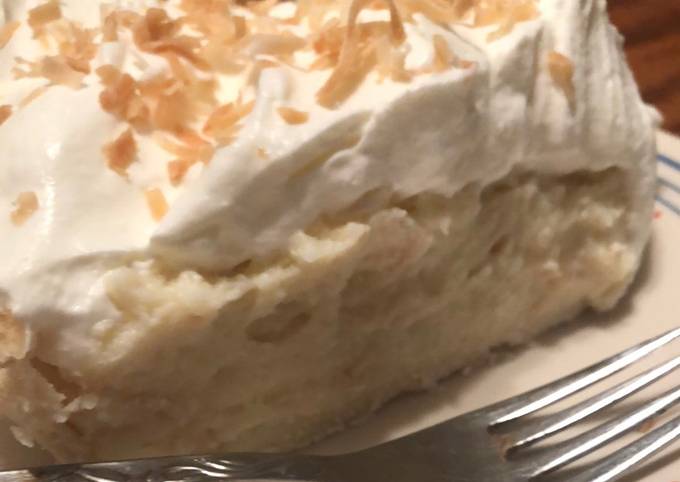 You can have Old fashioned coconut cream pie using 10 ingredients and 4 steps. Here is how you achieve it.
Ingredients of Old fashioned coconut cream pie
Prepare 1 cup of sweetened, flaked coconut, toasted.
You need 1 of regular pie crust, blind baked.
Prepare 3 cups of half and half.
Prepare 1 cup of sugar.
It's 1/2 cup of flour.
Prepare 1/2 tsp of salt.
It's 2 of eggs.
It's of Vanilla.
It's 2 cups of heavy cream.
It's 4 tbsp of powdered sugar.
Old fashioned coconut cream pie instructions
Set oven to 350. Toast your coconut on a sheet pan, stirring occasionally. At the same time, bake your pricked pie crust til lightly browned. Set both aside to cool..
In a medium saucepan, add the sugar, flour and salt and whisk together then add the 3 cups half and half, vanilla and 2 beaten eggs and whisk together on med/high heat until it comes to a boil and becomes very thick, stirring constantly. Remove from heat..
Add half the toasted coconut to the custard and combine. Spread in the baked pie shell. I let mine cool a bit before covering in plastic wrap and allowing to chill for about 4 hours..
To make the top I beat 2 cups heavy cream and 4 tbsp powdered sugar to stabilize the whipped cream. Once the pie was cold I added the cream on top and sprinkled the rest of the toasted coconut on top..