Tex's Rustic Pork & Root Vegetable Casserole 🐷.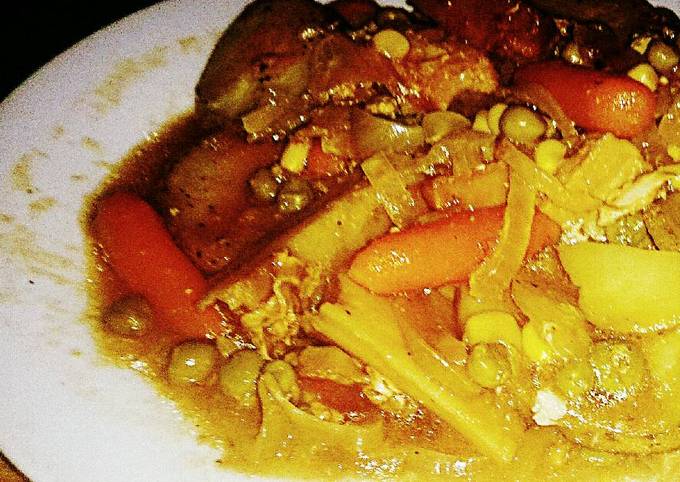 You can have Tex's Rustic Pork & Root Vegetable Casserole 🐷 using 16 ingredients and 20 steps. Here is how you achieve that.
Ingredients of Tex's Rustic Pork & Root Vegetable Casserole 🐷
Prepare 2 of pork loin steaks.
Prepare 1 of large onion.
Prepare 1-2 of large potatoes.
Prepare 10 of whole baby carrots.
Prepare 3-4 of baby parsnips (sliced lengthways).
Prepare 1/4 cup of mixed sweetcorn and garden peas.
It's of little olive oil or melted butter.
Prepare to taste of sea salt and ground black pepper to season.
You need of 🔽.
You need of gravy.
It's 1 of beef stockpot.
Prepare 3 tablespoons of plain flour or cornflour (cornstarch).
You need 350 ml of water.
Prepare 50 ml of sherry or port.
You need 2 tablespoons of ketchup.
Prepare 1 teaspoon of Worcestershire sauce.
Tex's Rustic Pork & Root Vegetable Casserole 🐷 step by step
Slice your potatoe(s) without peeling, and preheat the oven to gas mark 5/190°C (355°F).
Slice each steak into 8 pieces.
At this stage you might want to brown off the pork and onions in a skillet.
Line an oven proof dish with sliced onion.
Add a layer of pork.
Onions again….
…then a final layer of pork.
Add the sweetcorn and peas.
Finally, add a layer of parsnips and carrots.
Put the flour in a jug, then stir in the sherry and the water.
Heat on high for 2-2½ minutes in the microwave, or in a saucepan until it starts to boil. Add the stockpot and allow to dissolve. Simmer on a low heat until it reduces to the thickness you prefer for gravy. Add more water if it gets too thick.
Next, add the Worcestershire sauce and the ketchup to taste. Season if necessary.
Don't season too much. The stockpot will do most of the work for you.
Add to the dish until it almost covers the vegetables, but not quite.
Cover in tin foil and cook for 90 minutes.
Finally, remove from the oven, and remove the foil. Add a layer of potatoes, drizzle with the olive oil or butter, then season..
.
Put in the oven for another hour (uncovered) or until the potatoes have browned.
Serve as is, or with a pickled vegetable, like beetroot or red cabbage.
.