'The Big Swiss' Aberdeen Angus Burger.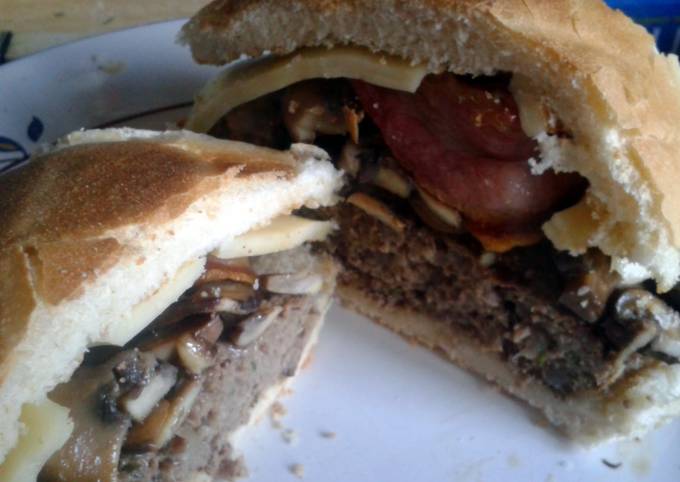 You can cook 'The Big Swiss' Aberdeen Angus Burger using 12 ingredients and 17 steps. Here is how you cook that.
Ingredients of 'The Big Swiss' Aberdeen Angus Burger
It's 1 lb of Aberdeen Angus beef, ground chuck/lean mince.
Prepare 1/2 small of onion, finely chopped.
Prepare 1 tsp of onion granules.
Prepare 1 tbsp of Worcestershire sauce.
You need 1/4 tsp of ground black pepper.
It's 1 tbsp of fresh oregano, chopped.
You need 6 slice of bacon.
It's 2 cup of chestnut mushrooms, sliced.
Prepare 1 tbsp of oil, plus extra to rub on the burgers.
You need 1 tbsp of butter.
You need 3 slice of Swiss cheese.
You need 3 of big eat rolls/ large burger buns.
'The Big Swiss' Aberdeen Angus Burger instructions
Put the ground/minced beef in a large bowl with the onion, onion granules, pepper, oregano and Worcestershire sauce..
Use your hands to squash together all the ingredients well..
Shape the mix into burger shapes. I use a little dish from a Spanish tapas to get the grown up burgers, and my cup measure for my daughter's burger. Press desired amount if meat into the container, then hold it upside down over your hand and give it a few really good shakes until it comes out..
Place burgers on a dish and cover in plastic wrap and refridgerate for a few hours..
Take the burgers out of the fridge thirty minutes before you intend to cook them..
When getting ready to make the burgers, put aluminium foil on a baking tray and cook the bacon on it for 20 minutes at 200 C.
Wipe and slice the mushrooms to about a quarter inch slices..
Melt butter and oil in a saute pan, then add the mushrooms..
Saute the mushrooms until the juices are gone and they are starting to brown. Then remove them from the heat..
When you are ready to cook the burgers, heat a skillet or a griddle..
Rub oil on both sides of your burgers and make a thumb print in the side you will put downwards first to cook..
Put burgers on the skillet, / griddle and cook for four minutes..
Gently loosen the burgers (if using a griddle) and turn them over..
Throw about a tablespoon of water in the pan, then put a lid or metal bowl over the burgers to steam for two minutes..
Remove the lid/bowl and pile mushrooms on top of each burger, followed by bacon slices, followed by slice of Swiss cheese..
Toast your buns..
When the cheese is a bit melty, use a fish slice to move the whole lot onto the bun. Top the bun, cut in half and serve..