Homemade No-Knead Rustic Bread.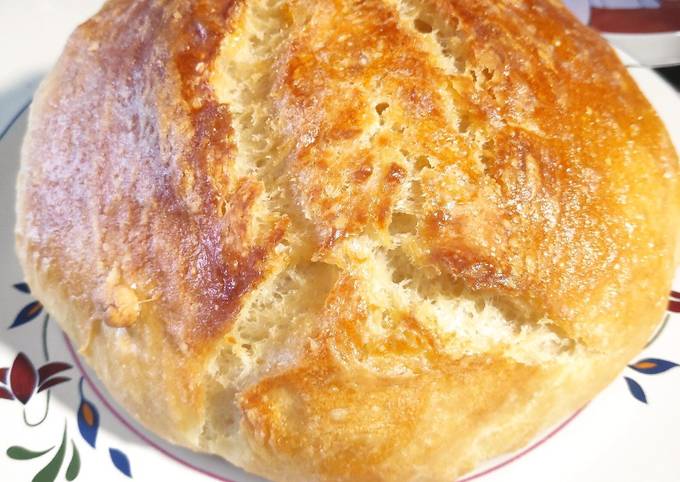 You can have Homemade No-Knead Rustic Bread using 6 ingredients and 7 steps. Here is how you achieve it.
Ingredients of Homemade No-Knead Rustic Bread
It's 3 Cups of All-purpose Flour (Plus extra for working with Dough).
You need 1 1/2-2 tsp of Salt.
Prepare 2 tsp of Sugar.
It's 3/4 tsp of Dry Active Yeast.
It's 1 1/2 Cups of Warm Water.
Prepare 1 Tbsp of Olive Oil (Optional) (For Flavor).
Homemade No-Knead Rustic Bread step by step
In a large measuring glass, heat 1 1/2 Cups Water in the microwave. Water should just be noticably warm to the touch, not too cold or hot. Add Sugar & Yeast. Stir. Set aside for a few minutes, as the Yeast starts to activate..
Add Water mixture (And Oil, if using) to a Large Mixing Bowl. Sift in Flour & Salt. Stir with a Dough Whisk until incorporated & there are no dry spots. Scrap the sides well. Dough will be wet & shaggy, sticky to the touch. If it's too wet, add small amounts of flour until correct texture is reached. Just remember, it's supposed to be wet & jiggly, not soupy or dry/firm..
Don't touch or form the Dough. Leave it in the bowl, as is, & cover it with a tea towel or plastic wrap. Place in a warm place in your house, & allow to rise for 5 – 8 hours. You can also place it in the refrigerator, after it's risen for about 3 hours on the counter. You can leave it in there as long as you need to, until you're ready to bake. (Up to 2 weeks).
Uncover Dough. It should have risen considerably. With your hands or a floured bowl scraper, pour Dough onto a floured sheet of parchment paper. I like to use two pieces criss crossed, so that lifting it is easier. Now, you'll flip the dough over on itself using hands or scraper. I flip in a cross pattern toward the center, facing up. Fold each side into the center, then flip over completely. The top should be round and smooth. Tuck & smooth the bottom edges, in order to make a round shape..
Lift parchment paper & Dough, lower them back into your Mixing Bowl. Cover & allow to rise for 1 hour. Preheat oven to 450°. After a half hour, place empty Dutch Oven with Lid in Oven to preheat. Once Dough has risen, take Dutch Oven out and lower the Parchment/Dough into the Dutch Oven. Be careful, that Dutch Oven is super hot! Score top w/knife. Cover with lid, & bake for 30 Minutes. Uncover, & bake for another 15 Minutes. Grab parchment paper and lift Bread out, place on a Cooling Rack..
Allow to cool for at least 20 Minutes before slicing. I like to rub a little bit of butter over the top, while still hot. Store leftovers for up to 3 days, covered, or cover with plastic wrap/foil and refrigerate for up to a few months. Enjoy!.
Alternative No Dutch Oven Method: Line a baking sheet with Parchment. Prepare Dough the same way, except shape the Dough Ball into an oblong log shape instead. Lay the Dough Log in the middle of Parchment, lengthwise. Cover with a towel or plastic wrap, & let rise for 45 Minutes. Score top. Fill another baking sheet with hot water & put on bottom rack of Oven. Place Dough in Oven, then spritz the sides of the Oven w/water before closing door. Wait a Minute, then spritz again. Bake for 30 Minutes.